Viacom International Studios, Miami's Newest State-of-the-Art Production Hub, Celebrates First Anniversary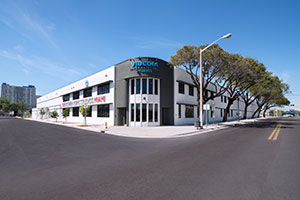 Viacom International Studios (VIS), the newest state-of-the-art facility to open in Miami, concluded its first year with a successful, multi-lingual slate of productions, including Spanish and Portuguese adaptations of MTV's global hit Ridiculousness, known as Ridículos MTV, Nickelodeon Latin America's first cooking competition show Food Hunters, the entertainment news format Trendy by Nick, and pilot seasons of Kally's MashUp and Formula A.
VIS, which opened its doors in October 2015, is an 88,000 square foot, state-of-the-art production facility located in central Miami, offering access to a highly skilled, multi-lingual talent pool essential to creating global productions in multiple languages. The facilities include two modern sound stages equipped to create a variety of content simultaneously, from daily scripted series, music specials and game shows to short form content for mobile, digital and on-air, as well as ample ancillary facilities and full turnkey service support.
VIS is the perfect space to create original, multi-camera or single-camera, high-quality, multi-platform content in any form including: series, music specials and movies, with a facility that can be transformed into an art exhibit, school, museum and even a party venue for your next corporate event.
The building offers 88,000 square feet of production space, featuring:
Two 15,000-square-foot sound stages with ceiling clearance 40 feet to the grid
Lighting dimmer systems with cabled and powered lighting grids
Lighting, electric and grip on site
12 post-production rooms
16 dressing rooms, including six star dressing rooms, plus two make-up rooms
Two green rooms
Technical equipment, prop, and set storage
Designated spaces for the art department
12 cubicle areas
24 Production offices
Conference and break rooms
Commissary seating for up to 200
Audience holding areas
Mill shop, warehouse space
Wardrobe rooms with washers and dryers
87 parking spaces
For any inquiries or questions regarding VIS, please call 786.774.4007, email infoVIS@vimn.com or visit viacominternationalstudios.com