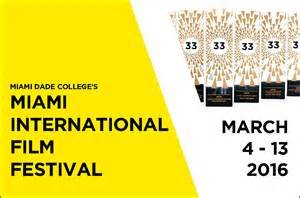 2016 Call for Entries
Programmers of Miami Dade College's Miami International Film Festival, are now accepting submissions for the 33rd Edition, March 4-13, 2016
As the premiere venue in the U.S. for launching new Ibero-American cinema and an important showcase for international films entering the United States, as well as American independent and documentary cinema, the Festival seeks the latest works by debut, emerging and veteran filmmakers. The Festival seeks top-quality films in all genres for various competition and non-competition categories, including features, documentaries, shorts, experimental cinema and Florida-centric stories.
Call for Entries open from now until September 28, 2015
Miami Jewish Film Festival is one of Florida's premier film festivals, internationally celebrated as a key platform providing well-deserved exposure for US and international films, and for the filmmakers who create them. As a gathering of more than 19,000 local and international cultural elite in the community, and committed press coverage, this world-wide convening of film aficionados has consistently provided the finest in emerging and established films.